Observatorio de desigualdades en la Salud (ODS)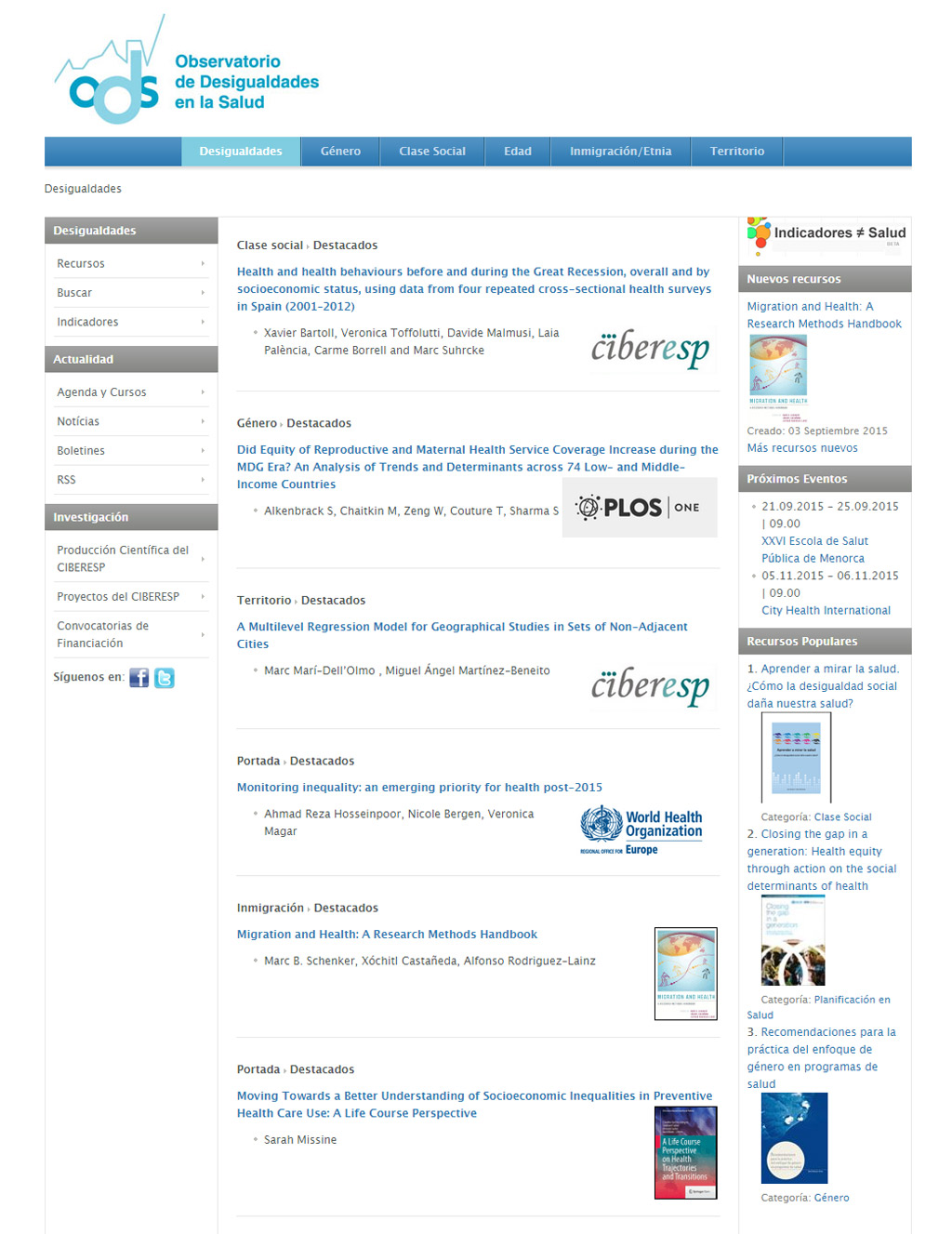 The Observatory of Health Inequality (Observatorio de Desigualdades en la Salud - ODS) is a free-of-charge and free-access scientific portal specializing in Health Inequality integrated within Social Determinants of Health programme (P4) of the Epidemiology and Public Health CIBER (CIBERESP). It is a technology platform that was created in 2008 to raise awareness and disseminate research about social inequalities, aimed at both the scientific and academic communities as well as society in general. Its official page contains scientific articles, reports, events, and other resources on the determinants of health inequality, classified according to social class, gender, age, origin, and place of residence. Projects such as viewing indicators for health and health determinants with Trendanalyzer (Gapminder) are also managed from the ODS.
The ODS which started out as the Observatory of Health and Gender Inequality (Observatorio de Desigualdades de Género en la Salud - ODSG), currently receives around 2000 visits a month, the majority from Spain but also from Latin American countries. Various renowned institutions have set up connections with the ODS, including the Spanish Ministry of Health, Social Services and Equality, some universities and research centres such as the European Trade Union Institute and the Pan American Health Organization, among others.
The ODS is also present in social media networks. It currently has a Twitter account (@odsciberesp) and a Facebook fan page.
Visit the Website: https://www.ods-ciberesp.org/
Objectives
The objectives of the ODS are to:
Manage a virtual information service in which information on health inequalities is published, systematised and disseminated, prioritising the studies conducted in developed countries and those conducted by CIBERESP researchers.
Establish an electronic support platform for the scientific and professional community, particularly for those from CIBERESP.
Develop contents and services aimed at the general population used for disseminating the results of the studies conducted in this field.
Participating Groups
The ODS is open for collaboration with all CIBERESP groups and particularly with the members of the inequality programme. It is under the scientific leadership of Dr. Lucía Artazcoz (ASPB), from Dr. Carme Borrell's group (Group 3).